4th Month Week 13
Because of minimal new events we have another combined week page. The final prep takes a while as we close in on painting the hull. The gelcoat is 45 years old and as you think you have found every defect another raises its head. Several weeks ago I made a big decision to go with gelcoat vice paint for the topsides. Once that decision was made then all repairs had to be made with polyester resin vice epoxy for compatibility with the gelcoat.
Chris has 35 years as a painter but no experience with gelcoat so Eric a high end painter working four boats down said he would shoot it. Both Eric and Kelly the yard fiberglass guy have extensive experience with polyester. Lots of learning is going on. We will tape and shoot the trim first and then reverse tape right on the edge so that the two coats butt up and are level.
Chris, after a lot of talking with Eric decided to shoot the first trim on the arrow at the top. I do not have any pics of the masking for this but here it is after he shot it, it came out well. The boot stripe is masked also. This masking takes hours also of course.
The top trim stripe is done, boot stripe is masked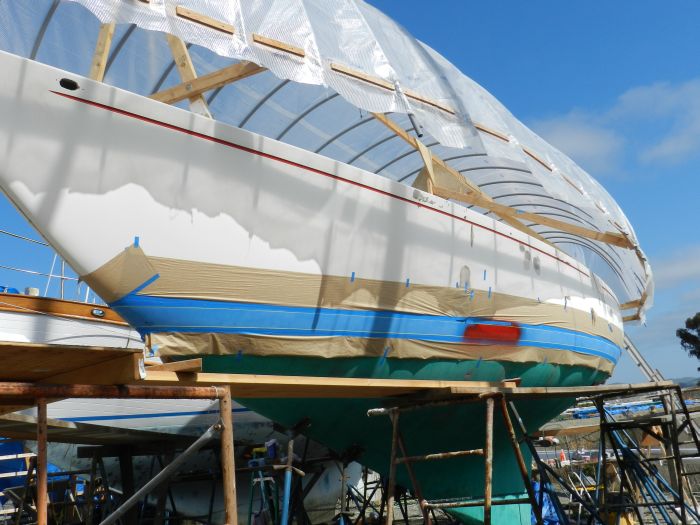 The learning continued. We got the red color by using a neutral base gelcoat and mixing in Tap plastic red pigment. It took a lot more than we expected so I got to make a run to Santa Rosa (the nearest Tap Plastics) for red pigment. This would not be my last Tap run.
So then Chris shot the boot stripe. It came out very well but it has become apparent that this process uses a lot of material. The sunny side of the boat set up well but he had to shoot PVA on the shady side to insure that everything set up corectly. PVA closes off the polyester from the air and aids the set up.
Starboard boot stripe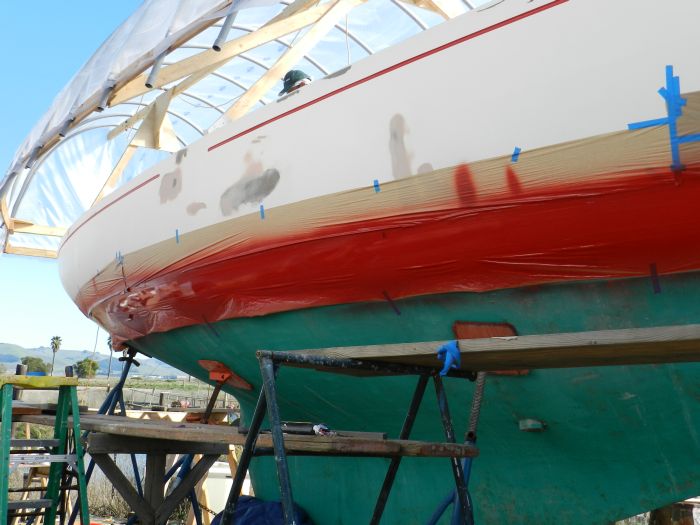 Bootstripe unmasked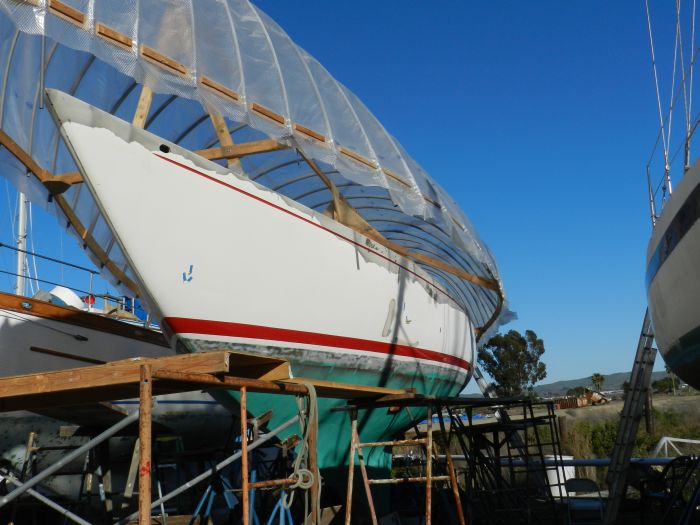 While paint prep was going on I got last stuff off the mast, it is completely stripped now, rivets and everything off. It sure is long
Naked mast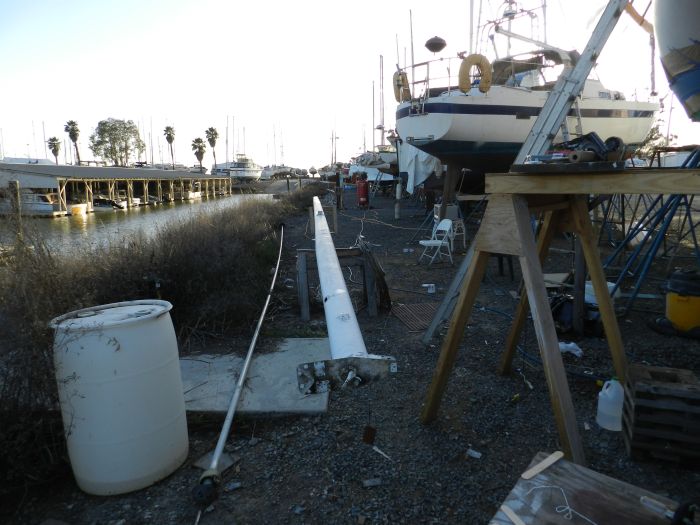 In the cabin Mario was prepping some of the walls that are available and nothing more is going to be done to, walls in the head also.
Cabin paint prep