1st Month Week 1
After I got to Napa I had the boat moved to the work area and put together my prefabbed sawhorses and unloaded extra stuff into the storage area that I had rented. I took pictures of everything so that I can figure out how to put everything back together after painting. I stripped everything out of the lockers, and pulled the sails. I had been told that the sails were toast by the owner but the main looks to be in pretty good shape. I think all it needs is cleaning. The roller furling genny doesn't look that good.
My friend Tom Bauer, owner of the Lord Nelson tug Semper Fidelis on which I have cruised a lot was down to spend Christmas with his sister and came to help me for a week and a half.The mast had to be pulled and I wanted to pull the engine at the same time to save crane fees. A previous owner had laid a beautiful teak floor from the break at the galley all the way to the forward berth. Nice job except there was no access through it to the tanks I presume are under there or the bilge down there or the base of the mast. So the floor has to come up. While Tom worked to get the floor up I took on the engine.
Engine in its lair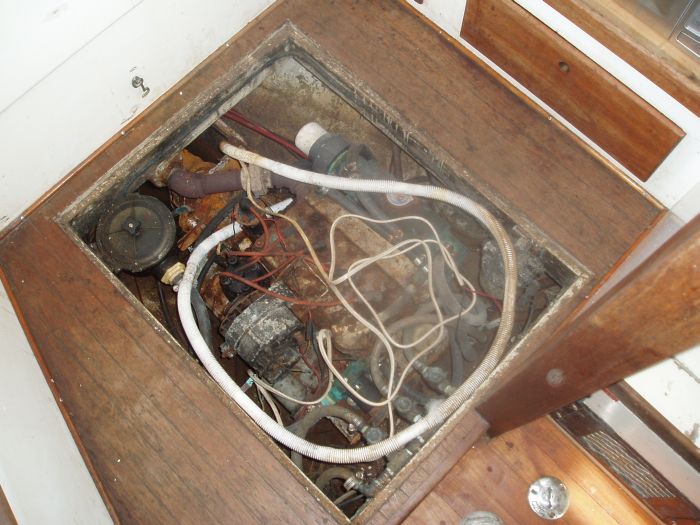 Working on my stomach I was able to get the prop shaft loose. Access to the engine mounting bolts was minimal, had to pull a lot of parts off to get at them. A liberal use of Mr Sawzall with a metal cutting blade was called for. The engine had been submerged at one time, probably from rainwater and no automatic bilge pump. The crew at the marina had the mast an engine out in about ½ hr. I forgot to take pictures.
Engine out, future mooring anchor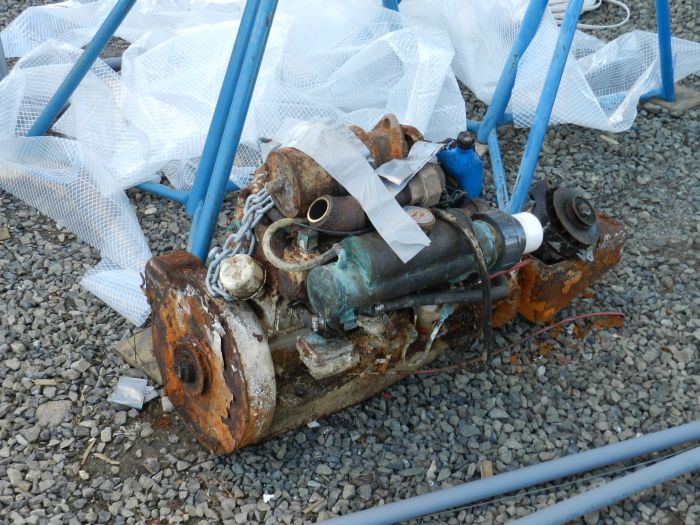 One of the many unusual discoveries was a TV in the anchor locker. It completely filled the space behind the door, in fact it was bigger than the door and wouldn't come out. After turning it every which way a non standard screw was spotted. Apparently the owner had taken the TV apart to get it in the locker and that is how we got it out.
Anchor locker TV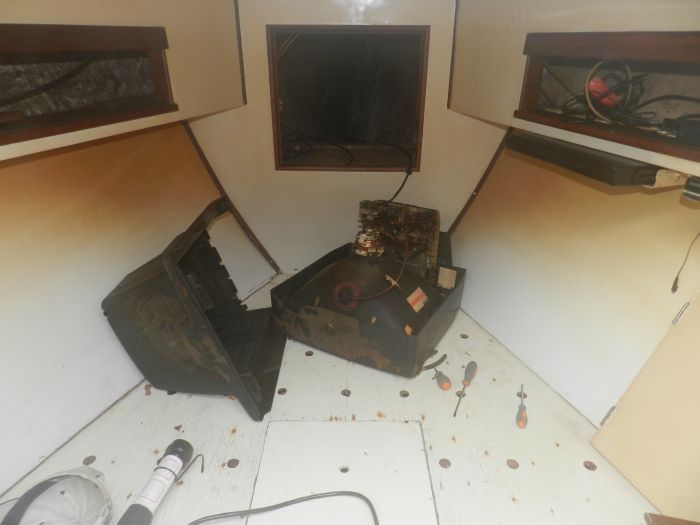 With the engine out we were free to start on the tent. By the end of the week we had two tripod supports up and it seemed like we could have the whole tent up by the end of Monday. Reality was about to intrude
Two tripods up