3rd Month Week 9
But wait you say, where is week 8. Week 8 was somewhat of a bust, shot the first coat of primer and had to wait a day for it to get hard. Then more sanding, then more filling as more defects were revealed. Very hard to work around on other projects. By the end of the week I was pretty wound up. Week nine was much better, in addition to the deck prep other things were getting done again. We had to take a rain day but at the end of the week the final primer coat was on.
In addition to the deck prep, hull sanding commenced. The whole hull was sanded and started grinding out some of the gelcoat cracks.
The hull prep has started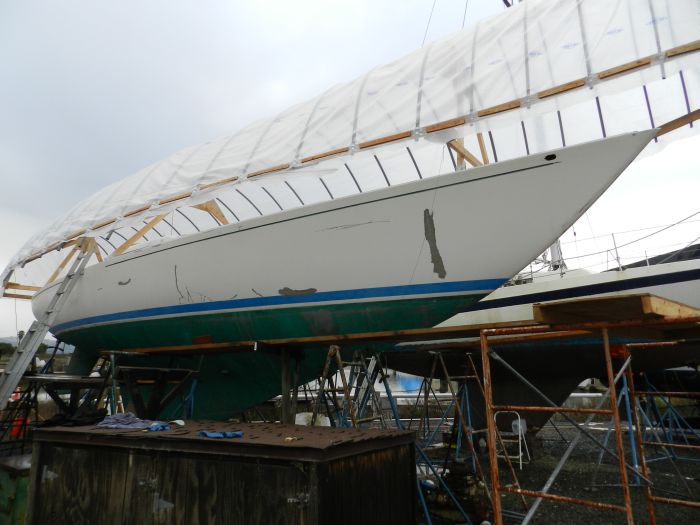 Epoxy polyester and paint discussion
When I came down here it had been years (40 +) since I had used polyester resin. I have been an Epoxy guy for decades. Its strength and ability to bond fiberglass to wood has made it my preferred resin. I disdained any use of polyester and thought those who used it belonged back in the dark ages A little diversion to discuss Napa Valley Marina. They have a full service Marina and can do about any kind of repair, mechanical or structural. To give you an idea of what kind of place it is to work for-the new guy has been here 7-8 years, the yard foreman has worked here since he was 15, he just turned 50. The fiberglass repair guy used to run a the shop at a major builder and the lead paint guy is known as "Dances with Brushes". I am a pretty cocky guy and I think a lot of myself and my knowledge but I know the difference between amateur and professional. So my boat is right across from the paint tents here in Napa and I get to see what they are doing everyday. It became apparent that polyester was still very much in vogue with the pro's, I have yet to see them mix a batch of epoxy. Vinylester gets a lot of use in addition to polyester. There appears to be two main issues with epoxy use. First is sensitivity, people get allergic to it, second is time. It just takes to long to set up. Polyester is very quick and those that know how to use it can do a lot of fiber glassing and filling in an afternoon compared to waiting until the next day while a batch of epoxy setts up. In addition my choice of paint got questioning looks. I had very good luck with a previous rehab using Awl Grip. Everybody that I talked to acknowledged Awl Grip's tremendous look when everything went well but then came the Caveat. You are working outside (even though tented) and its winter, and it is very moist at night. Awl Grip don't like that So that started me thinking-I am working on a fiberglass boat constructed of polyester resin and fiberglass. It is 46 years old and its projected life is truly unknown because we just don't know how long a well built fiberglass boat will last. Forever is probably unlikely but into next century seems quite possible. Then I met Eric working on a boat four boats down. He is a professional painter and my painter Chris aka "The Paint God" says that Eric is a better painter than he is and Chris is not a shy retiring wallflower. I watched Eric shoot a new coating of gelcoat and it was a revelation. So the new pathway goes like this-Continue on the deck with primer and a switch to industrial Imron for the color coat. For the anti skid, roll on gelcoat with stuff mixed in. Eric showed me an antiskid he rolled on 12 years ago, looks like new and has a nice texture. The Hull-- we are sanding the gelcoat, going into the cracks and fixing using polyester and we are going to shoot a new gelcoat coating.
Sanding on the exterior wood also commenced. When the deck is finished stuff can go back on the boat.
Mario is sanding and cleaning hatches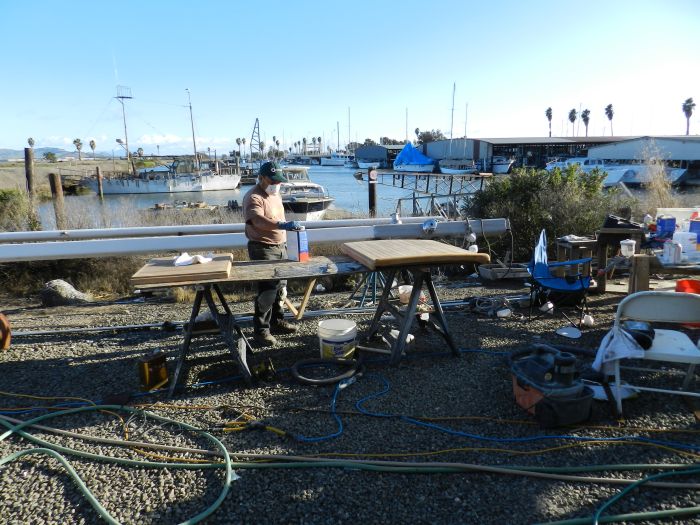 First coat on the hatches, note the purple heart accent down the center
First Coat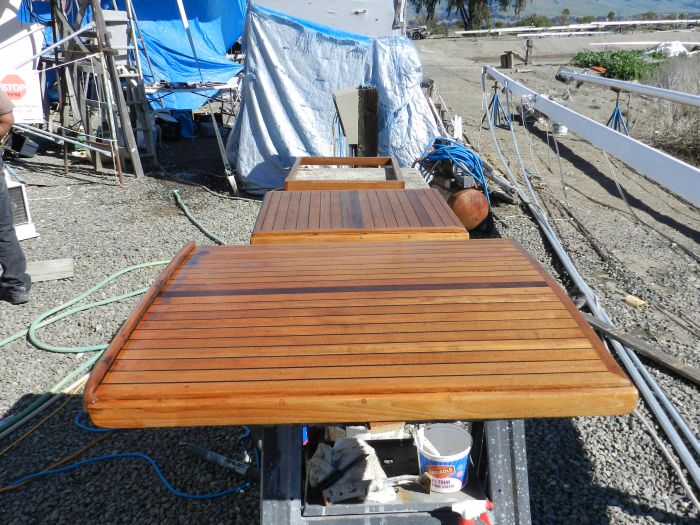 Chris continued on the final prep, shot a seal coat on those areas that he had working most on.
Shooting primer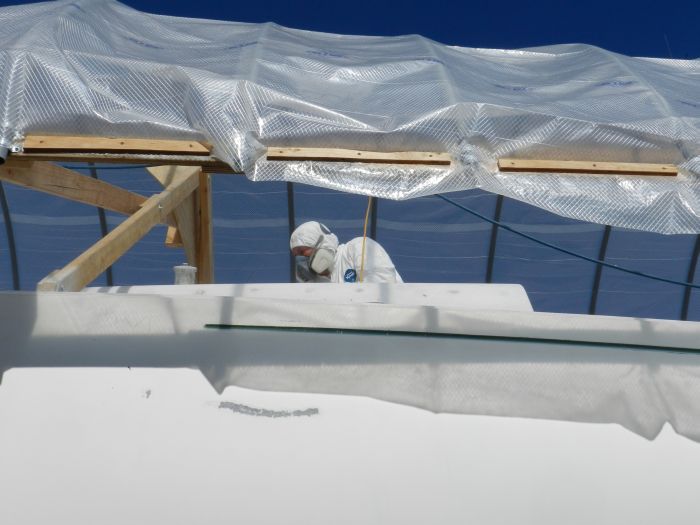 And finaly on the last day of the week the final coat of primer is on. We have 36 hrs to get the color on.
As the sun goes down primer is done