Week 2
Monday morning was another beautiful California day, a little cool and we continued work on the tent. Once the tripods were on and the main rafter was up all work had to be done from scaffolding on the side. This really increased the work time. Old guys going up and down ladders and moving heavy stuff don't move fast. They do make a lot of noise however. I am used to putting up tents on boats that are in the water where you can work off the dock at the same level. Once again I forgot to bring out the camera while concentrating on the task at hand
It wasn't until Wed evening that we got the tent frame totally up and all the arches fastened. Thur morning we got up very early to get the plastic up ahead of the wind. There was frost on the deck which made it slippery. If we wanted frost we could have stayed home. So it wasn't until the plastic was on that I remembered "Oh Camera".
Tent is Finished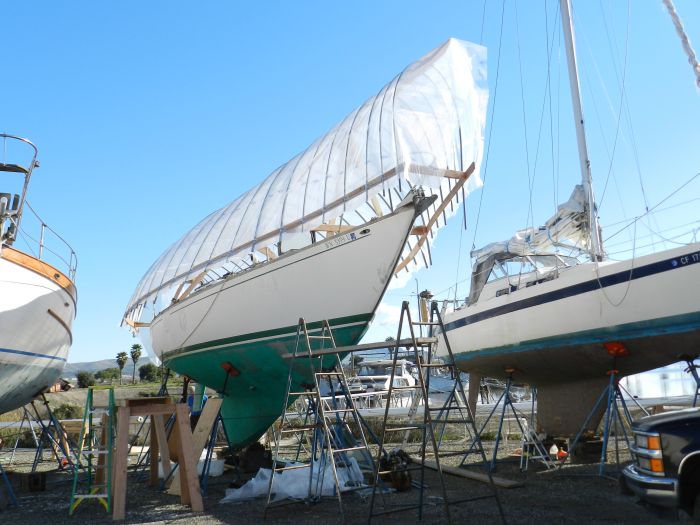 Inside the tent
So now we go to work to remove everything, and now another negative discovery. Some previous owner or individual who belongs to the genus "Cretin" fiberglassed over all the bolts and nuts on the inside except in the cabin. This was obviously a misguided attempt to stop leaks. All you do is force the water to go somewhere else probably some place you don't want. The proper leak solution is -Pull stuff off, rebed, reinstall. Nothing else works, especially the time honored, "I'll just smear some more sealant around the base". At some time somebody else had taken a hole saw to the fiberglass covering the toerail fastenings. This is very good news as they are the most numerous and the most hidden.
Toerail, Genoa track and Deckfastner bolts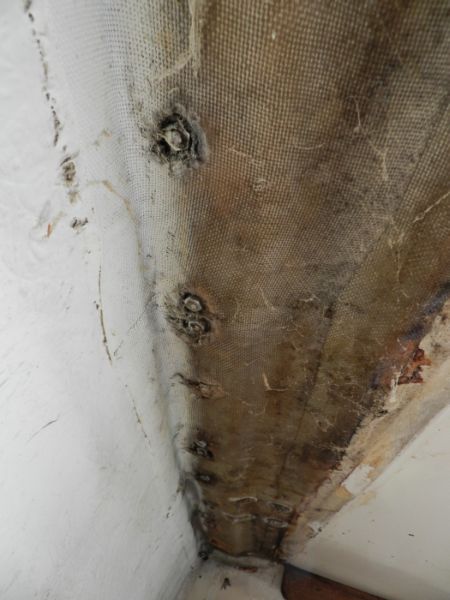 So in I go to the aft lazerete hole saw in hand and get to do overhead cuts with the cut fiberglass raining down on me. All the stanchions and winch mounts etc. are fiberglassed over. Fond polite references to those who labored at this fiberglassing are expressed. Once the nuts are exposed the rest is easy, a modern impact driver with a socket adapter spins nuts off in less than a second. It is way better than the last time I did something like this with a ratchet and socket or box wrench.
Inside the port locker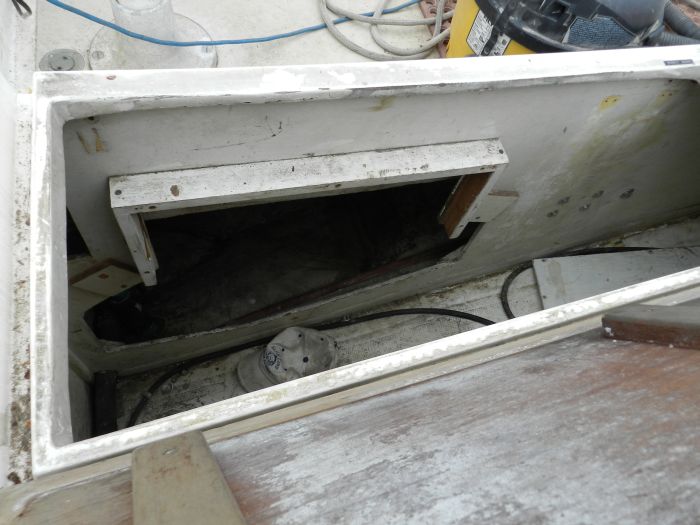 So I can fit into the lazerete and into the port side locker, with the opening into the under the cockpit floor the portside locker is almost roomy. The quarter berth intrudes into the starboard locker and I just don't fit. It is going to take a smaller and more flexible individual to get in there. Or I may have to create some openings.
And then there is the anchor locker, once blocked by a TV set, now open for all. Black with mold, it has relatively easy access to the backs of the bolts except for the top one on the forestay chainplate/anchor roller combination. Using a box wrench taped to a stick I am able to reach the back of this one, which has been opened up through the fiberglass by someone else previously.
Wrenching in the anchor locker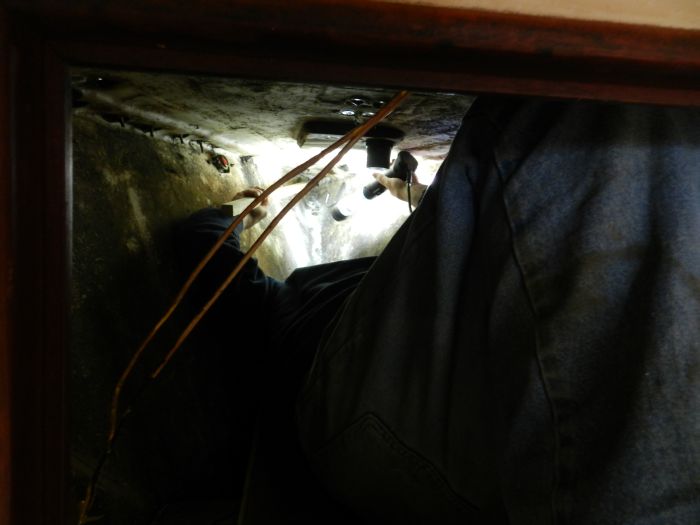 So it is the end of the week and the tent is up and stuff is coming off. I am only a week and a half into this with up to four months to go. Progress is steady.
Almost everthing removed aft of the cabin